OUR Story
What began as a body wipe to get us from practice to class on time became a mission to motivate the masses. Enter: Hustle Clean, a self-care movement at the intersection of hustle and hygiene.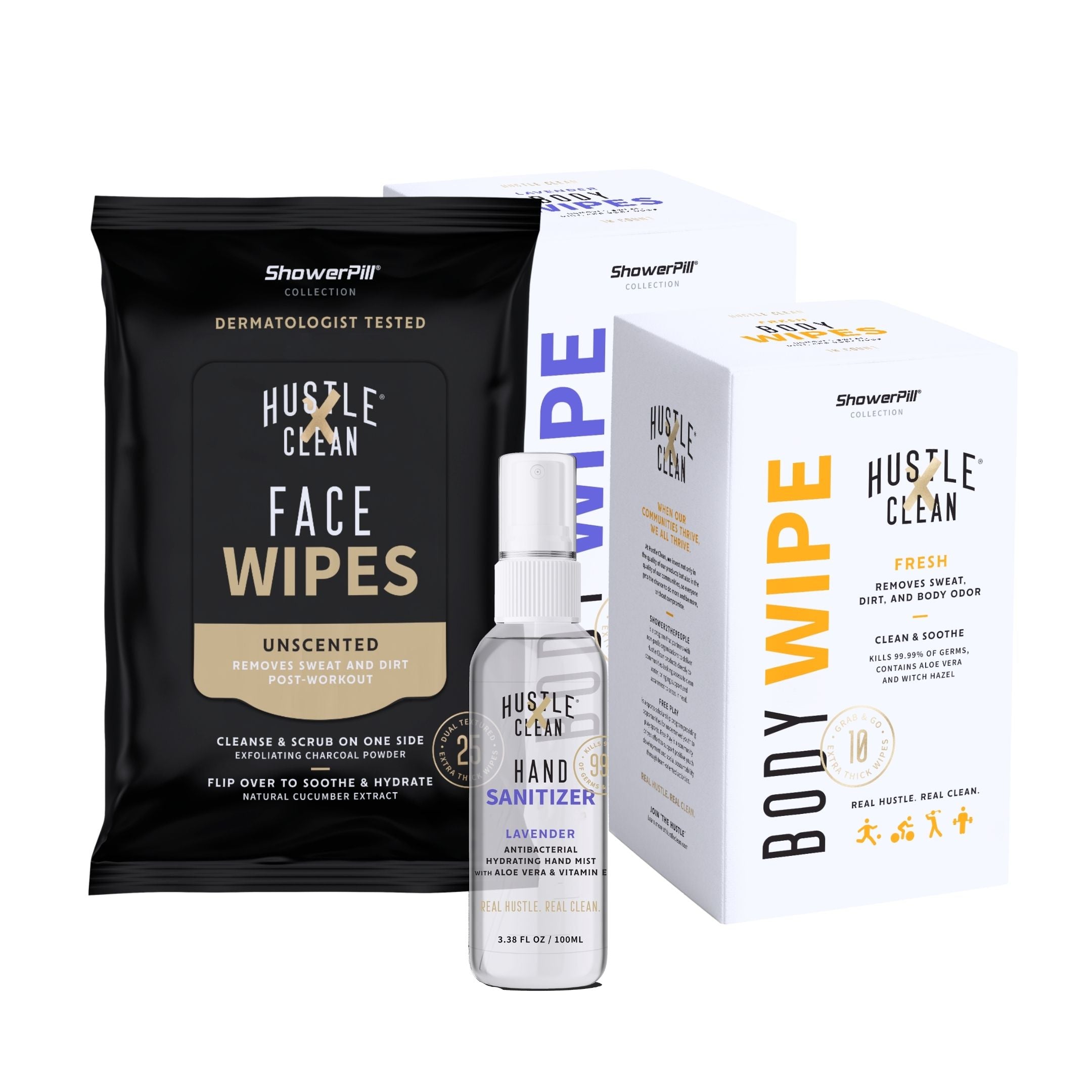 ON THE FIELD & OFF THE FIELD
Many years ago Justin Forsett, Wale Forrester, and Wendell Hunter met on the football field at UC Berkeley. They fostered a community within the locker room, and felt comfortable to share their business ideas; thus a friendship and business partnership evolved beyond college. Justin continued his football career into the NFL and accomplished many successful seasons before retiring to head up Hustle Clean, formerly ShowerPill, with Wale, who created an impactful career as an Oakland Fire Fighter, and Wendell, who played in the NFL briefly before continuing on to work as an EMT and ER technician.
With community being an important aspect to the friends through their upbringing, core beliefs and values, and service as a first responders, they created a brand that helped people on and off the field. Their convenient hygiene brand includes antibacterial and antimicrobial wipes that clean, sanitize, deodorize and disinfect bodies and surfaces, for use in the fitness community and beyond.
"Off the field" Hustle Clean supports everyone's pursuit of holistic greatness. Their Free Play sports scholarship program provides opportunities for underserved youth to play sports by providing funds, sports equipment, uniforms and in-person training sessions. They created #ShowerToThePeople and partnered with other non-profit organizations to visit and donate hygiene products to communities lacking access to clean water, including areas of Texas following Hurricane Harvey, Flint, Michigan, and Puerto Rico following Hurricane Maria.
These men are the definition of "Hustle" and are determined to use their business and platform to help communities in need.